Free advice on setting up a club, project planning and financing, among other things
Advisory services in German, English, French and Arabic, Bamun, Lingala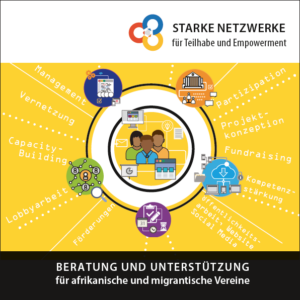 NARUD e.V., Network for Participation and Sustainable Development, has been active as an association for over 10 years and is strongly networked at federal and state level. We know the hurdles from founding the association to the successful work of the association. Since most of the associations work primarily on a voluntary basis, they have only limited human and temporal resources. They show only a low level of professionalism and little experience in project work. They are also insufficiently networked with the administration and important local institutions and structures.
In addition to the successful development of projects, the focus is on acquiring funding and applying for it. We would like to support you in your work with our offers.
Strengthening associations and initiatives

You want to set up an association and need advice

You have an association and you need support

You have questions about project management: Development, implementation and financing of projects

Would you like to network with other organizations?

You need support with project funding: State funding, federal funding, EU funding
Seminars, workshops
for representatives of associations, initiatives and multipliers The topics are based on your demand, e.g. B .:
Successful public relations and networking

Funding: State and federal funds, foundations

Support with the application process in digital form

Project management: development, implementation, administration

Communication, moderation and conflict management

Attract employees and volunteers for the work of the association
Advice by appointment
NARU D e.V.
Brusselser Strasse 36, 13353 Berlin
Tel .: 40 75 75 51
beratung@narud.org